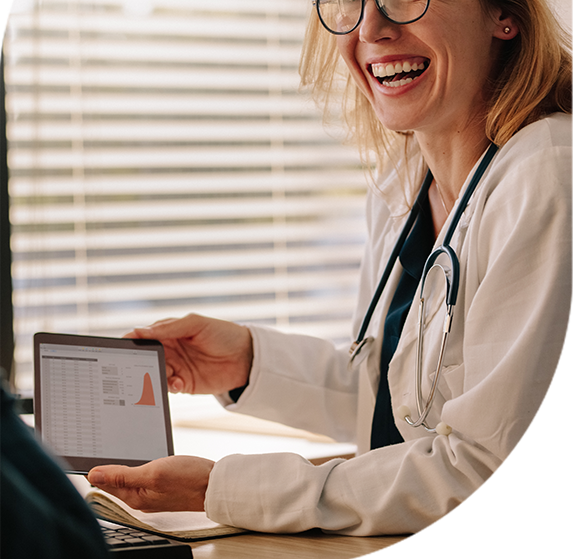 Here to Lend a Hand
Salubris is a Management Services Organization (MSO) that contracts between health plans and healthcare providers. We're here to manage risk: optimizing health plan utilization, identifying opportunities, and ensuring providers are operating at peak performance with high-quality clinical outcomes.
At Salubris, our mission is to care for health care providers and their businesses by uniting them with health plans and offering innovative, targeted support.
PCP-driven and provider-focused
Based locally and community-oriented
Led by a managed-risk model
Bring individualized care and improve the quality of life for all. That's our vision,
and it guides everything we do.
Service
is in our DNA
From dozens of years of combined experience in patient care, managed care operations, health plan functions, data analytics, and customer and community service, we formed Salubris. From the start, our goal was to find ways to be innovative and effective in the healthcare marketplace.
Whether as a provider-focused community-based health plan or a partner to physicians and health plans, bridging the care gap, our goal is to take our unique combined experience and make it actionable. Today, we're dedicated to fostering a supportive environment for our partners that's based on transparency and consistency.
Team
Leaders
Dr. Miguel A. Núñez Jr. is a primary care physician with more than 30 years of experience in healthcare ventures in the South Florida region. These include the development and expansion of wholly owned clinics, a staff model HMO, a network of mental health clinics, and a successful physician-centered managed care plan from the ground up. His philosophy is patient-centered and provider-focused, while incorporating innovative technologies and his clinical experiences. His mission is to promote the evolution of healthcare delivery to improve outcomes and deliver value to the community. Dr. Núñez is a graduate from the Georgetown University School of Medicine and the Physician Executive MBA program at the University of Tennessee, Knoxville. He is a Diplomate of the American Board of Managed Care Medicine. Currently, Dr. Nunez is the founder and Chairman of the Board of Salubris.
Frank J. Fernandez has more than 30 years of experience in healthcare operations including financial operations, network development, claims and customer service functions, contract implementation, regulatory compliance and information management. He has held leadership positions at both Florida-specific and national-level healthcare ventures – including United Health Care, Coventry Health Care and Amerigroup Florida – which led to understanding the unique challenges inherent in managing care at a local level, while complying with federal, state and national practice norms. With a life-long love of mystery and science fiction, his approach has been to leverage opportunities at every level – even within a sometimes complex corporate or legal framework. This has led him to seek pathways to success using every available technical and communal resources to generate solutions. He is the Chief Operations Officer for Salubris.
Victor E. Alarcon's motto is to "integrate simplicity, innovation, and creativity in all facets of the business process." This has been the guiding light in his work. Victor cultivates and applies his creativity to simplify processes and procedures. In 2015, Victor went back to graduate school at Florida International University, where he graduated with a Master of Business Administration and obtained several certifications in Global Health Administration and Lean Six Sigma. During that time, he traveled to the Far East for several months to study the commonalities and differences between Eastern and Western medicine. Victor has continued to apply his holistic experience to Salubris' management style for care in South Florida. Victor is also the son of two physicians, and understands the challenges facing healthcare stakeholders today. Victor serves as the Chief Financial Officer for Salubris.
Dr. Garcia is dually licensed as a psychologist and mental health counselor. Prior to joining the Salubris team, Dr. Garcia worked in several settings, including private practice, a pediatric children's hospital and an outpatient behavioral health facility. She has over 30 years of experience in healthcare and understands the provider perspective as well as the importance of patients receiving quality care. She believes that healthcare should foster an environment that supports, guides, and cares for its physicians and patients. She holds two Master's degrees and a Doctorate of Psychology. Dr. Garcia's guiding principle is to do things with integrity, gratitude, and humility. Currently, Dr. Garcia serves as the Compliance Officer for Salubris.